Corinne Deacon: "All our preparation matches have an objective"
Published on November 1, 2018 at 2:57 PM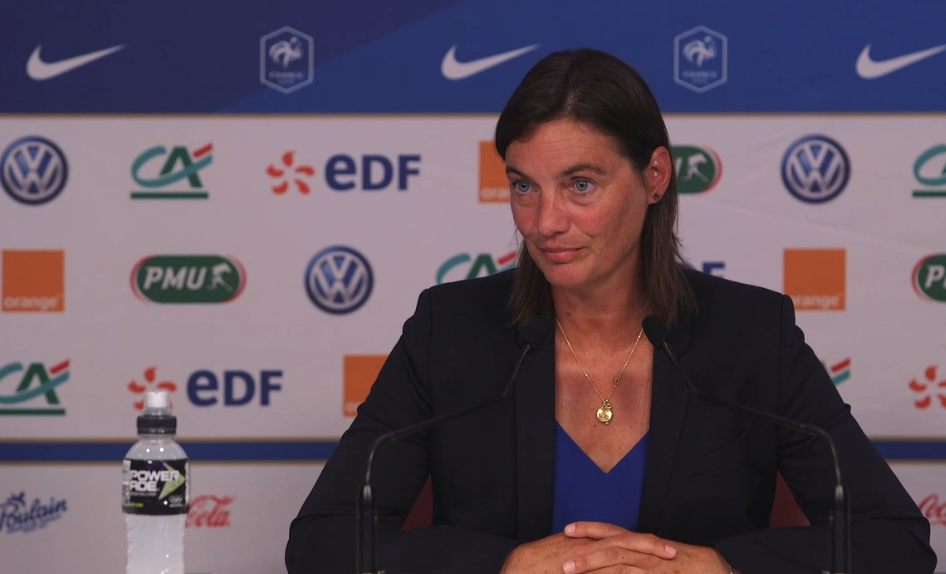 This Wednesday, Corinne Diacre has unveiled its list for the friendly against Brazil on Saturday, November 10th. A final gathering for this year 2018 with the arrival of Marie-Antoinette Katoto finally validated. The coach explained her choices and evokes the preparation of the team of France for the world which awaits from June 7.
On the state of form of Amandine Henry and Eugénie Le Sommer
Amandine is in the group for the Champions League tonight. Amandine is just my captain so I wanted her to stay in the group. For Eugenie Le Sommer it's a bit more complicated because she has a persistent pain, but we leave time until the weekend to see its evolution and then we will advise Monday.

Should the Ballon d'Or be sent to a French woman and for what reasons?
It would be better anyway? (laughs) I think that would be good. Lyon won the Champions League so it would be logical. While this is a Lyonnaise already, and we will be a little chauvinistic, that it is a French of course.
About Marie-Antoinette Katoto
I did not get [on phone] Marie-Antoinette Katoto, I'll see her next week. I got his coach on the phone with whom we exchange a lot.
It's logical. I had already told you the last time it was a little early, it was followed, that with Olivier [Echouafni] we were in phase on his return. Today I think it's the right moment, she is performing well with her club, she is better, she is smiling when she scores, so this is the moment she is in the group with us. Ouleyemata Sarr is injured today so it will allow me to see her live with us for a week.
Almost definitive group or are there still some changes?
If I told you yes, I would be Mrs. Irma, it's not so ... There are some changes, after you know I can not change ten players at each rally and if I did, you would criticize me . Today, we have a foundation that is solid. After the goal is to continue to do what we do, that is to say, to be efficient, to take these preparation matches very seriously and especially to continue to progress and work.
The match against Cameroon rich in lessons?
All games are rich in lessons, whatever the opponent, after all depends on what we do. Against Cameroon I had set up a 4-4-2 diamond, it's not simple, very few played in this system. In addition, I had tests on some players in posts a little new to them, so we had a little trouble animating this system in the first 20 minutes at least. Some players needed a half-time almost to get going, but hey with a 6-0 to the key, there are lessons, completely, whatever the opponent.
An international match must bring us something, regardless of the opponent. We made a second more coherent period, with a much greater animation of the game compared to the first period. So yes everything is rich in lessons, there are things that I liked, after there are still some changes today in the list because I want to and also sting other players who have not not for me a sufficient investment in their club, compared to the international status they may have today. That's why some still today are not in the list.
Are we still in the experimental phase where the collective and tactical project is already taking shape?
There is already a project (smile). It's been a year and a half already that I work. It is refined from internship to internship. Very sincerely, there is a project, we know where we want to go, after we experiment, I can not always play in the same system, I can not always play with the same players, that's why some are the.
That's why some people stay at home because some of them are content to be in the 23, that's not enough, it can not be an objective. The game project at home is clear. Now we must continue to perform well, and all the more against Brazil, I think we have no right to miss.
The game project is refined, the girls are completely in line with what we want to put in place and especially with the final goal so we continue to work very serenely. Now when we win it's easier, it's up to us to keep it going.
The absence of Karima Benameur and the players "stung". What are they ?
I'll keep it for myself and I'll call the players later, once the list is out. But if you look at this list compared to the previous list, you will do the count yourself.
Regarding Karima, this is not
it's not a physical problem, it's a player that I want to evolve in France B team, with this course an interesting match against Belgium. So here, it will especially allow him to find playing time in France team.
The qualifiers for the French team after fifteen games at the helm?
I could say a few things, but I think the aspect we're working on most today is performance. We know we will be expected in a few months, so we must get rid of all the negative points, and we try to work on each meeting on details.
The last two rallies we worked on different systems, players in positions a little different, but still we kept some collective strength, defensive already because we have not conceded a goal on the last two matches.
Despite the ratio that is still a little weak in my opinion on the number of opportunities and the number of goals scored, we still put 8 goals in 2 games. [It] must continue in this direction, so I would say rather a team today performance. Now on preparation matches what does that mean? The answer will be given from June 7th.
On the group project, early or late? Brazil, a good opponent to prepare this World Cup?
Because it's Brazil? It is to offend other nations, I can not say that. I do not agree with you, whether it's Brazil, whether it's Cameroon, Australia, I'm sorry but all of our preparation matches have a purpose. And today we are neither early nor late, we are well, we continue to work, we are serene. After I tell you the objective of this game against Brazil is to continue [...] to perform, to continue to be strong defensively, to continue to be effective offensively and win the game simply.

On the analysis of the other teams
You know it's a long-term job, it's been a year and a half that we are already working on the observations of teams that we meet. And then today we are waiting for the draw to work a little more precisely already on the first three opponents that we will meet.
Then we will do several simulations to see who we can meet then and also start working very seriously. But today we already have a database that is video or analysis, several teams. We have already played several nations since I was at the head of the France team. Now I want to say that after the draw we can refine all that.
Dounia MESLI