Frédéric Biancalani (EA Guingamp): "If we play in D1 and if we want to pass stages, it goes through there"
Published on October 29, 2018 at 6:13 PM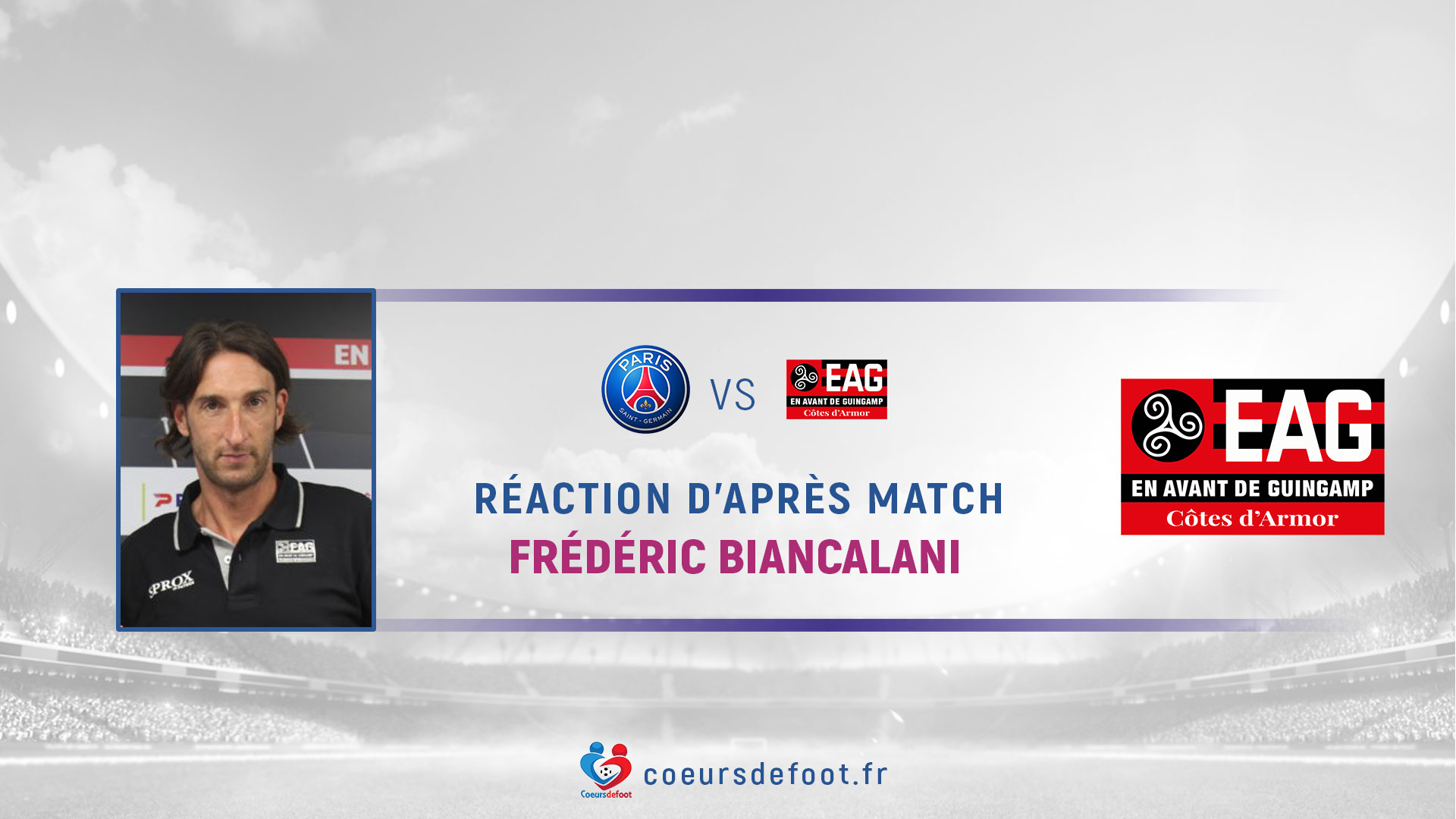 In the mixed zone, the coach of En Avant Guingamp, Frédéric Biancalani did not hide his frustration, but wants to keep the positive of this short loss against PSG (1-0) for the rest of the season.
"A defeat deserved so I think Paris today did not steal his defeat, far from it.On the second half we took waves so it's sure that at some point against the waves repetitive , it ended up paying [for Paris] We were not good in our offensive game on the second half to be able to annoy them. "
Football hearts - Did your players still make the effort?
Yes that's undeniable, there is no problem on it. Efforts of course, the investment was very good. Now that's the kind of game, you have to at some point bother them offensively, because we know very well that the offensive situations they will have. So we have to be much more vigilant and we have to be much harder offensively, to be able to at least start with something.
Soccer Hearts - We know you wanted to come to win this match, so it's frustrating to leave with a defeat?
Yes, we always try [to win]. It's also matches that I hope will make us grow, individually, collectively. That's why I brought young people into play at the end of the game, because it shows them the level of the D1 and it's good for these young people.
Football Hearts - You have stood up to PSG, you have played, you have not suffered the game ...
In the second half it was a little complicated, we played more. It was mostly in the first half where it was, in the second it was a lot more complicated because I think they were also intensified, they put a little more investment, more races a little more deep and then it was normal. On the individual quality of girls [PSG] it was normal, there's no picture. When you have two attackers with an international level ... I have very good attackers, and today [efficiency] is the difference between the PSG club and us.
Soccer Hearts - What will it tell them this kind of match? To be more offensive?
To be fairer in shots offensively, because we can not stand for 90 minutes. Find accuracy in our passes, in our paths and in our sequences and then put the impact and all that could put the PSG in the second half.
Football Hearts - Are you finally frustrated that your players are not able to turn one of their chances in the first half?
Yes that's it, that's what we missed, that's what we said a little at the break because I think we were not at the end of our intentions too. I do not know, it may be girls who are impressed by the PSG, but at some point if we play in D1 and if we want to pass stages, it goes through there. You have to know how to grow, as I said I have a workforce that is young, but I hope that this kind of match will grow them as a woman but also as a football player.
Soccer Hearts - One of the young players in your group is Sana Daoudi, who has joined the club this season. What can you tell us about her?
Sana I think she is a beautiful person, she is also a very good football player. We saw it present [against PSG], but we see it present on all matches. That's what we also missed in the impact [as a profile], in the midfield, having this vice, for a player of 20 years I think it's really very good. Now she has to keep growing, working and she is on the right path to become a good player.
Hearts of Foot - This is the first time we have an exchange with you, so we enjoy a little. We feel that you really want to bring your football culture, to bring this more because you have been given a lot of instructions to your players?
Yes because if it is to make the ball, or to beat in front, I think that today everyone can do it. Today in D1 I think that's what it lacks a little, play the game, build, take the time, have a little more vices but that I think it's in women's football that it missing a little bit. It's going to come with time and I think the girls have also gained confidence in them, compared to everything we have proposed since the beginning and it has been seen since the beginning of the season. I think that today we are frustrated because we are greedy. This is a match that should serve us to prepare Fleury next week.
Dounia MESLI