Olivier Echouafni (PSG): "I can not be happy with that"
Published on November 1, 2018 at 2:45 PM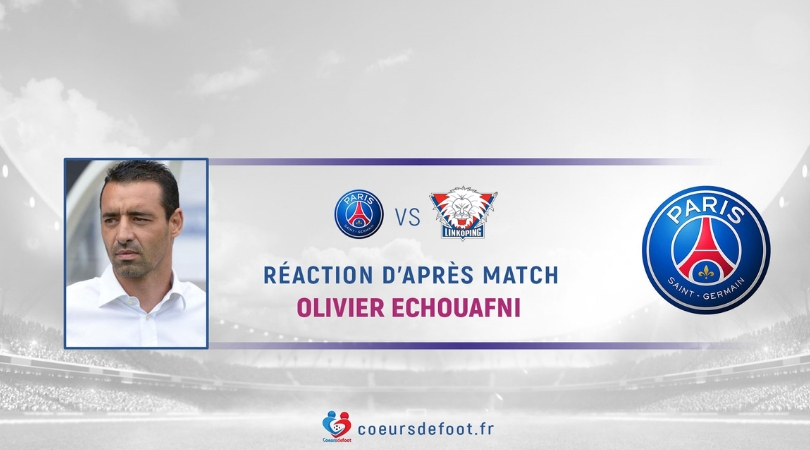 After PSG / Linkopings on behalf of the quarter-final return of the Champions League (3-2 win, 5-2 cumulative), Olivier Echouafni reacted without language of wood on this victory rather mixed, with these two goals conceded on kicks stopped, who have trouble passing.

Your feeling about ...
We are qualified stop. There is nothing else to say, in the sense that I can not be happy and satisfied with what we have produced. We did not play a European Cup match, we played a league game.
A European Cup match is that [the counter-example, what not to do], we relax, we made 2-0 in the first leg, in the return leg, quiet, it's is that what?
We are in a phase of construction, group, team, with young players, today we realized that we lacked experience. So I can not be happy with that, even if there is qualification at the end. Congratulations to the team Linkopings who made his match, who did what was necessary to try to put us in trouble. We are doing very well in the first half, we have been very efficient, very realistic, stop.

Football Hearts - What do you say to these players in this first period, because the first goal was late. Are they encouraged or challenged?
When we are on the edge of the field it is always difficult, we encourage of course, we try to correct what there is to correct. But it is true that at a given moment, they must take control of themselves, they must take responsibility, find solutions. We give them a lot of information, before the match, during the match it belongs to them. The only player who really took the course is Formiga, 40, congratulations to the captain for what she embodies, bravo for what it is, she really sets the example.

The speech at half-time
There was no particular thing (face surprised and astonished), we just explained to them that they had done in a half-time we will say, on the first part they had not returned to the match, and a second part from the moment we scored this goal [in the 30th minute on an against his camp] it has a little more liberated. But we were stung again in our pride. We are always in the reaction and not in the action. It was from the moment we had the opportunities against us, that we started going forward and started playing really.

Hearts of Foot - It was felt that there was an awareness after the match against Guingamp last Sunday (gleaned 1-0) with these first two goals in the first period?
Yes, it gave confidence these two goals but at this level, we must be super rigorous about everything, and at all levels and we have not been.

On the set pieces
The good thing is that finally we score on set pieces, it's pretty positive, we have players of fairly good quality. We have players who are good of the head. From there it is necessary to find the good coordination, between the one who strikes and the one who receives the balloon. We missed it, and today we found it, so it's the only positive thing with the qualification.

Football Hearts - Do you think you have the tactical patterns you work in training?
There are some, but not enough for my taste yet. In the use of the ball, we must do better, in the game direction, we must do better, in the game direction we must do much better, and it is especially see before and play ahead, do not to be afraid, to trust. I tell them as soon as I can, to play ahead, if they miss their pass, I even take it on me, it does not pose any problem, but at least they try. The goal is to try, after it works, it does not matter, but at least they try.

Soccer Hearts - Do you have to be more aggressive?
Yes after more aggressive on the defensive, more nasty, Formiga shows the example, on all the levels, on the defensive plan, on the offensive plan, it does what it is necessary.

Hearts of Foot - And there is a player who has also done what is needed, it is Katoto with his double, his third goal with the one to go. She is a key player of the PSG?
She is one of the key players yes, she is a player who is confident, she is a player who asks herself a little less questions. She has just been selected in A for the first time, is that somewhere she works well and she deserves to go.

Soccer Hearts - Seems like she does not need to put a lot of effort into being decisive on the team?
Yes but she is doing a lot of work already on her and from there she tries to be more and more strong, with a desire to want to score. She must be a real killer in front of the goal and she is and that is what she is asked.
Hearts of Foot - How do you see this first selection for her? Is it the most ultimately for her?
Let her discover the group already and we will perhaps make a point when she returns, but she has to play with her qualities, she has many qualities, and she does not ask too many questions, because when we finally ask questions, we do not do things right.

Football Hearts - At the hour of the game we felt that you wanted to manage the match by bringing out Katoto and that's when Linkopings' two goals finally arrived. Do you have trouble swallowing?
But it's not just the two goals, it's the whole game, we've been intermittent in the use of the ball and maybe wanting to rest on our goals in advance, it was more annoying other things. I think the idea was to leave with the desire of course to win, we did it, we qualified but in the game, we did not show what was needed. We lacked aggressiveness, we missed a lot of things.

Soccer Hearts - This is the way you wanted?
The way ... The state of mind [rather]. I want to see a state of mind, and a collective, I do not need to see too many individualities eventually. The individualities make the team win, but you have to be in the collective all the time.
Dounia MESLI