Meeting with Kristina Pantelic (Albi), an ambitious young player
Published on March 9, 2018 at 9:26 PM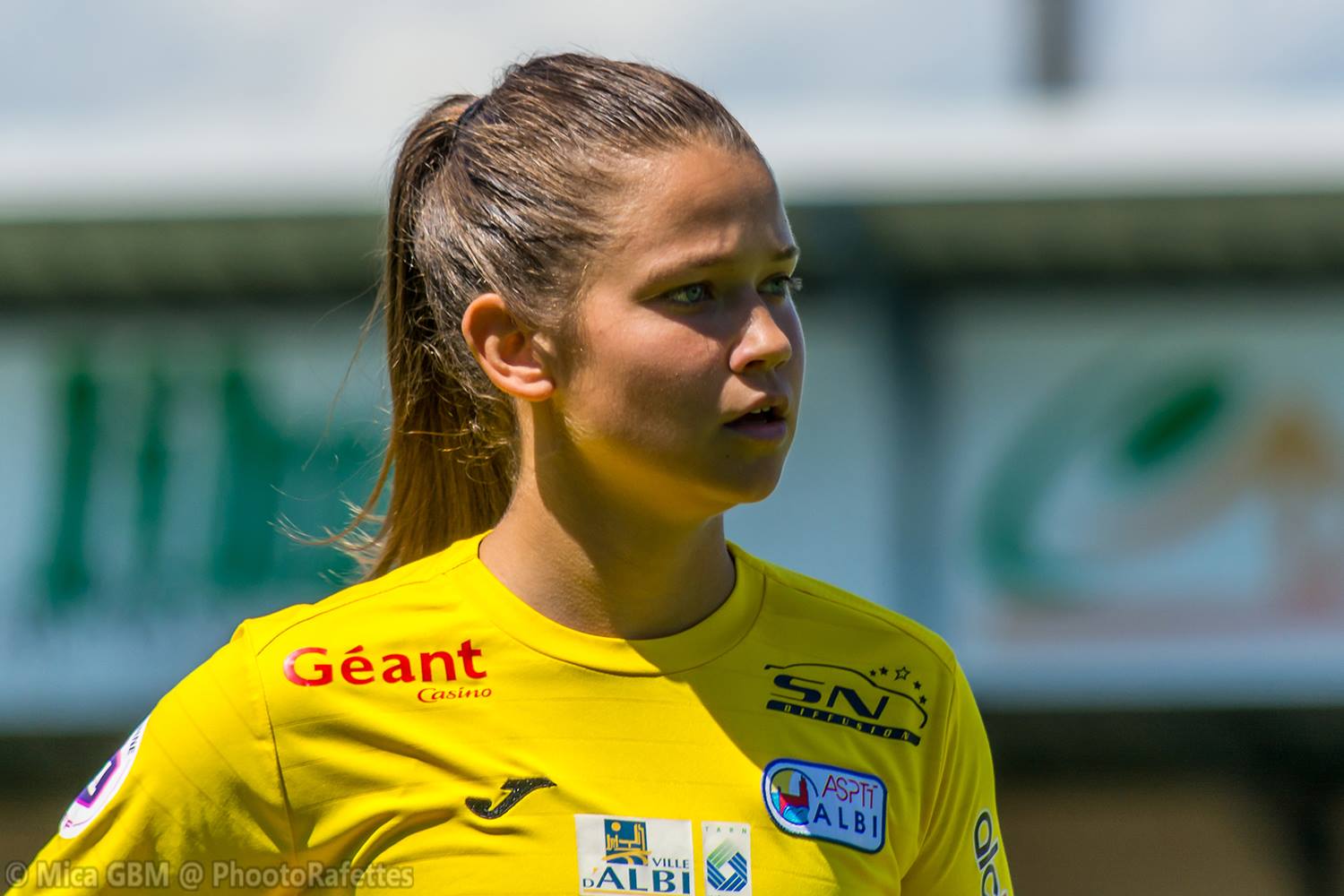 Coming to France, Kristina Pantelic knew what to expect. After playing in Serbia next to her home, then in the men's club of her neighbor Aleksandar, she moved to Belgrade and joined ŽFK Crvena zvezda. Everything is linked to the young player, who with his talent and tenacity decides to see further for his career and join the French championship at ASPTT Albi.


How were your holidays ? Have you been called by the new coach?

I had to go back to Serbia but I could not, because before the international break I had a small injury and as I had not played for a few days of the championship, I played matches with the team B, the DH to resume my rhythm. So I stayed here in Albi.

No I was not called because I did not play the match against Paris and I think it played against me because there is a new coach at the head of the selection. He did not call me this time but I hope next time.



How did you come to football? How did you decide to come to France on your side?

I started at age 8, I had a neighbor next to me playing football and every day he called me to play with him. At school, I played with boys all the time, it was a habit. Over time, he offered me to join his club that did not have a women's team. I stayed until I was 15 before going to Belgrade to play with girls. I studied there for four years. Then, when I finished my studies, I wanted to clarify my future, I wanted to go to Germany, but there were some administrative complications that forced me to give up. But my aunt knew an agent who worked in France, a former player who lives in Albi and we managed to fix my situation so that I could play in D1.


Do you have another activity next?

Yes, besides I train the small ones of Albi, with Aïvi Mitchaï our captain. For now, that's all, but next year, I'll do my studies by correspondence. Last year, I took four months of French lessons and I will go back there to improve my understanding of the language, so I can continue my higher education here in France.



Do you feel that you are trying hard to be good here, even if I imagine that it must be complicated to manage for you?

Yes at first it was really complicated because I did not speak a word of French. At school I had learned English and Russian. When I arrived in Albi I could only say "hello". But the girls were nice, so my integration went well.



You are very young but it is very important to be respected. How do you get there on your side? Your selections in Serbia help you in this way?

Yes it is important to be respected in the field. I acquired that when I was young and especially having played with boys, it hardens you physically already. But on the other hand I'm not the type to want to express myself too much.

Mentally yes, too, but it changes according to the team you are facing.

I was called last year in Serbia team for the first time, in June. We had gone to Russia for a friendly match. Then the former coach called me for qualifying at the 2019 World Cup. But there with the change of coach, this is the first time since [a time] that I was not called.



What is your favorite position on the field?

It's number 10, but we do not play with that system [in Albi]. We play with two number 8, so I'm moving to this position right now. When I arrived I played in the middle on one side, as with the boys before.



I noticed that between Albi and your previous club in Belgrade your game had changed a little. You stay more in a set back axis game, while in Serbia you enjoyed playing on the sides and animate the game of your team. Is it true or is it just my feeling?

Yes that's true because the championship is not the same. With Belgrade I tried many things because I played on the side, but with Albi I play in the axis, and do not take too much risk, otherwise you can pay cash.



In Albi, you like to have a position rather back full axis, but you like to overflow to help your teammates on the sides, and you also enjoy seeing the game come to block your opponent. You did not have a role of number 6 last season especially where I'm wrong?

Yes sometimes I like to take the depth and try to try something. That's it, last season I was in number 6 with Laurianne Cervera and there was a 10. And he [Adolphe Ogouyon, former coach of Albi ed] told me that I could have both roles there on the pitch, both offensive and defensive.
In what area do you think you have to progress further? What are your personal goals today? When you see the men's Serbia team that some players play at Manchester United, City or Chelsea, is it also your dream to play in a big club? (Today there is only Jovana Damnjanovic playing for a German "big club", Bayern).

I have to take more risks. Defensively, I can still progress because it is not easy in the French championship. Sometimes I get out of the match too easily, I have to manage my emotions better in fact. I am too 100% and I have to manage this pressure to be more important offensively.

My goals is to continue playing here in D1 because for me it's the best championship in the world and I think, like all players, to play in a club of the top 4. I would like to try England too because I am very fond of Liverpool. Yes it's one of my dreams but I'm still young (smile) I still have time I hope.



We have the impression that women's football is not very developed in Serbia, whereas it is very important for the progress of the national women's team. There are more than half of the Serbian players playing in the local championship.

Yes, but I think it has evolved a lot because this season the Red Star Partizan [Belgrade] played in the Europa League [boys' home] and it was five or six years since they had not played this competition . After that it's difficult to follow the championship of Serbia, just like girls.

Yes it is important to develop the local championship to advance the national team. After that there are players playing in Denmark, Sweden, Germany etc. and Milica and me in France.




Exactly I asked your teammate in selection and club Milica Mijatovic what she saw of you on the field: "She is a combative player, aggressive defensively, with a technical accuracy, a good reading game, she is generous in his efforts and involved in the team's game. " What do you think of what she said?

(She laughs) Okay. Yes it's true, thank you but I do not like talking about myself.




Is there a Serbian player that you take as an example?

I like [Nemanja] Matić, he plays Manchester United and the midfield. I like his game, he really makes the right choices in his game and his movements. He is very, very intelligent and I like to watch him, because we play almost the same job.



Okay. So I saw you played the match against Israel for the 2019 World Cup qualifier, the only one your team won in the first four games. It will be very difficult to qualify but do you still believe it? You have to face Spain for example.

Yes I came back 15/20 minutes, as in the first match for qualifying. Yes it's the only one we won and we know that it will be complicated because we are with Spain, Finland, Israel and Austria. These are nations that have a little more experience than us. These are small losses where we were not very lucky. I think that the games back against these nations will be complicated for us to qualify.

I think it's more a question of physical preparation, because in front of these teams we never played in a low block, we tried to play our game but I think it takes a little more experience some girls so that the team can play together internationally. In the efforts of the last minutes we loose a little, because we are not well enough prepared but we have never given up, even against a team like Spain or Austria.



So what are the future goals of Serbia's women's team? Is it complicated to develop women's football in your home country?

I think the 2019 World Cup is going to be hard to be there, but in two or three years, at the next Euro or the next World Cup, we'll have more chances to qualify, I think. This is the goal of our team, because we have already been present in major youth competitions. I think we have the potential, we have the qualities and we have young players coming so I think we can do it in the next few times.

It is necessary to think of the formation of the young players of the national team. They started recruiting and training at the age of 12/13, doing internships and during their course in U16 / U17 / U19. This is also what helps the national A team for the future to achieve our goals.

I do not think it's complicated to set up because I look at U-17s and I see they have the qualities to challenge any team. It just takes time for all that to take and that automatisms are created.
Photo: Mica GBM